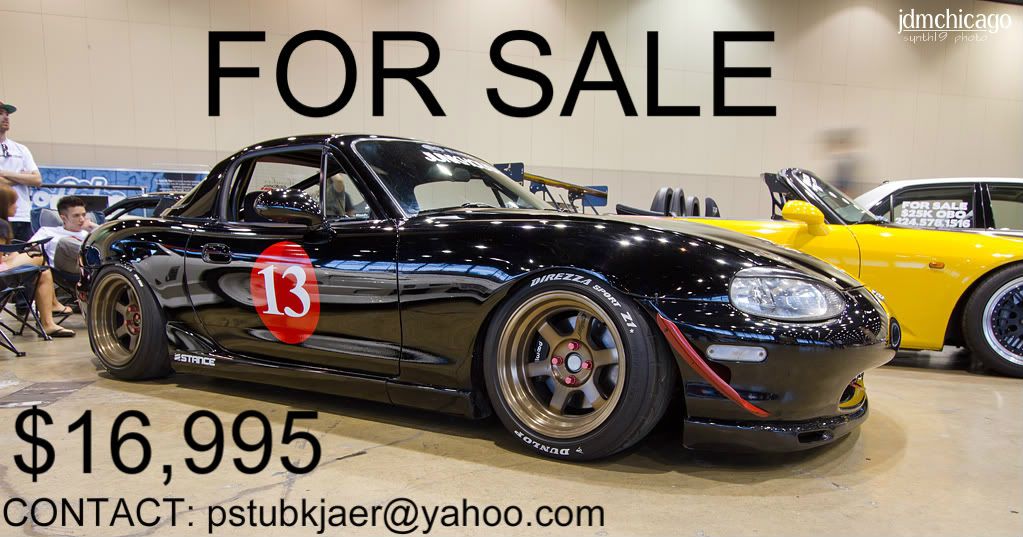 In his own words:
Possibly up for sale is my black 1999 Mazda Miata. 63,XXX miles. Clean title in hand. The car is a purpose built, turn-key drift car. Yes, the car is driven hard. But it is well-maintained to take whatever you throw at it. The car is 100% reliable and ready for you to drive up to a drift event, drift all day, and drive home without a problem.
This Miata is a drift/track car and has a few dings and scratches. The car has been garaged its whole life as well and has never seen winter. The interior is completely gutted except for the essentials.
I am very meticulous especially when it comes to fluid changes. I change the engine oil right before every event, the transmission fluid every 3 events, and the differential fluid every 2 events (if not sooner). The only time this car gets driven is to and from drift events and the occasional weekend drive. Fluids have all been changed beginning of this month (October 2011) and the car has just gotten a 4-wheel alignment.
The car produces over 240whp/210wtq. The car is not built for overall horsepower but built for response, reliability, and balance. The suspension, brakes, power all work in harmony together to provide an overall awesome driving experience.
CONS: The interior is gutted and has no AC (has heat though), airbags, and soft-top. The car has a check engine light (always has since the car got turbo'ed many years ago) probably due to 02 sensor since there is no catalytic converter. The car has very minimal ground clearance but I guess that is a PRO to other people like myself but it is on coilovers so you can easily raise it up.
MEDIA: Check out these videos of the car in action!
http://www.youtube.com/watch?v=uhu_CF8luB4
http://www.youtube.com/watch?v=V6G_cePSVrU
http://www.youtube.com/watch?v=ICtazw1uOOE
http://www.youtube.com/watch?v=gs8dhXHbvrM
No test-drives unless you have money in hand. I will gladly take you for a drive though and run it through its paces if you are seriously interested in purchasing.
PRICE: $16,995 obo
Engine
- internally stock '99 1.8L BP
- Flyin Miata stage II turbo kit, GT2560R
- Flyin Miata intercooler upgrade
- RC Automotive 550cc injectors
- AMS custom downpipe and exhaust
- TF straight pipe
- HKS blow off valve
- Mazdaspeed motor mounts
- Koyo radiator
- HKS radiator cap
- Flyin Miata big electronic fans kit
Electronics
- Electromotive TECII standalone
- AEM UEGO wideband
- BLITZ Uras D1-spec SBC-ID and Power Meter
- Omori boost gauge
- Greddy water temp gauge
- Blitz turbo timer
Drivetrain
- ACT organic disc clutch
- Flyin Miata lightweight flywheel
- '95 transmission
- Cusco RS 1.5 way LSD
- Mazdaspeed differential bushings
- RS Aizawa differential bushing spacers
- '01 spot welded rear subframe
Suspension/Brakes
- STANCE AL+ coilovers
- SWIFT springs 8k/6k
- RS Aizawa full pillow ball bushing set
- RPSpeed tie rods
- Baer pillow tie rod end
- Fender braces
- JIC front strut bar
- Racing Beat tubular front sway bar
- Racing Beat solid rear sway bar
- Racing Beat RLCA brace
- Short adjustable pillowball endlinks
- Custom extended RUCA
- Wilwood big brake kit with stainless lines
- Wilwood track pads front / Hawk + pads rear
- 15×8 +0 Rota Grid V wheels 195/50 Starspec F / DZ101 R
- Red RAYS lugnuts
Interior
- Bride seat rails, custom
- Bride Zeta I seat
- BOSS hub
- Personal 330mm Neo Grinta steering wheel
- Mazdaspeed e-brake handle
- Cusco spin turn knob
- Mazdaspeed shift knob
- Blitza/Uras fire extinguisher
- Harddog Hardcore single diagnol roll bar
- 4 point harness
Exterior
- OEM optional front lip
- OEM optional sideskirts
- OEM optional rear mudguards
- OEM optional rear spoiler
- OEM hardtop
- Garage Vary eyelids
- Garage Vary canards
- Front tow hook