So it has been brought to my attention that a few people have been concerned about where the stickers are, and where the money is going to. Well ladies and gentlemen, that is
exactly
what i will be talking to you guys about tonight. First of all, where are your stickers? To put it simply, probably at a post office or in your mailbox, perhaps it's on the kitchen counter as you read this - your mom is wondering why you have mail from "Hb for Japan" and will ask you about it when you get home from school (don't worry mom, it's not a mail order bride confirmation). All donations made
not requesting chrome
made previous to the 24th of March have been shipped on Monday. If you did order chrome, i apologize for the delay but please bear with me. I am looking for a way to get chrome to work with me, but although i will do everything in my power to honor existing orders
all new orders for chrome will be substituted for silver
. I have spoke to a friend of mine who also does stickers and he has offered to do the chrome for me, so I am still waiting on (hopefully good) news from him.
I would also like to talk some numbers here tonight, We have collected over $6000 as of today which is awesome! Now some people have expressed that they were not aware that they would have to wait two weeks for their stickers, to be completely honest - neither did I. I did not expect such generosity from all of you and had not expected the donations to come in as quickly and in the quantities that they did. So here are some numbers for you guys:
$6000
that comes out to 1200 stickers.
It takes roughly 10 minutes a piece to cut, weed, apply contact paper, look up the order on paypal, verify it on the email, package it, and send it out.
That comes out to 12,000 minutes or 200 hours.
which means that if we were to put in 14 hours a day of work we would have shipped the stickers out on Wednesday (which is basically what happened) and we appreciate your understanding that we do have jobs and go to school outside of this project, if taking donations and sending out stickers was my full time job, then i would have no excuse (although i would be working overtime).
Now i am definitely not complaining, I am very glad that we are able to do this for Japan, and i am extremely thankful for all the generous donations that allowed us to do this, if nobody donated we would not have been able to donate our materials, our postage, and most importantly our time. I apologize that I was not able to meet some of your expectations on when you should have received the stickers.
Now i would like to reply to a comment left on this very blog personally, as this fine commenter chose not to leave a email.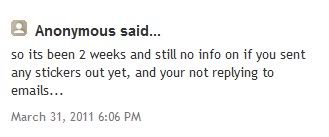 I am very very sorry i could not reply to your email immediately. And i also apologize for not posting any info on the stickers being sent out. I was well...really busy making the very stickers that are the subject of your concern. I would really like to reply to each and every email that i receive but chose instead to concentrate all my attention on making the stickers and making sure they were sent out to the correct person, I promise you that i will be replying to your email.
Finally i would like to report to all of you that we will be donating the money to the Consulate General of Japan as soon as we hit the $10,000 mark. But before we go to their office in San Francisco with a hundred one hundred dollar bills (or maybe two thousand fives stuffed into a briefcase) I am contacting every major corporation that i can think of to see if they would like to match our donation, making the absolute most out of your donation.
I appreciate your time, your donations, and thank you for reading this.