So I've had this funny project of a Civic going on.
Around the end of last year, I realized that daily driving my S30 was a pain in the dick. I considered the most reasonable of modern sports cars, the Honda S2000, an amazing car to drive - even in stock form. However, there were a few factors that had me second guessing if an S2000 was really what I needed at the moment.
Pros:
Handles like a motherfucker.
Aesthetically appealing.
Handles like a motherfucker.
Something about girls.
Handles like a motherfucker.
Honda reliability and comfort.
Cons:
Insurance would be like $300/month, seriously. (yes, my driving record is not the best)
Interest rates, as i would need to make payments on the vehicle. (And would require full coverage insurance)
Cost of replacement parts from normal wear and tear.
Fuel economy is good but not super-awesome.
There is no fucking room, man.
So i presented to myself a compromise. I would choose a reasonable car with cheap ass insurance rates, a real trunk, rear seats, readily available parts, and fuck it - might as well have four doors, and build it to keep up with and maybe even outrun stock S2000s without spending more than what an S2000 would cost me. I decided on a '96 Honda Civic sedan. A car engineered from the ground up to be a efficient, cheap, reliable car to get your average single mother to and from the grocery store after dropping off the kids at school.
I found a clean title, 5 speed, LX model (power everything/no sunroof) in white (has to be white, dude) that had no signs of ever being in an accident for $2500.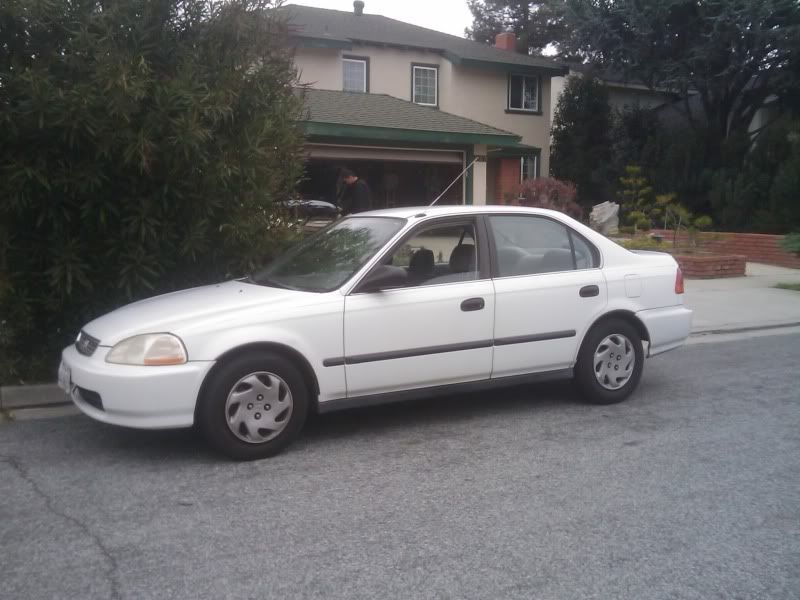 I went ahead and set the budget at $15,000. Which was the cheapest I could reasonably get an AP2 S2000 for even before factoring in the cost of interest and insurance.
First up, suspension.
I bought the car with 183,000 miles on it, needless to say all the bushings were worn to hell. After considering replacing the rubber bushings with polyurethane replacements, I decided to just go with spherical errrrrthaanng. New coilovers were ordered as well as swift springs in +2kg/mm all around (effectively 14k/10k). Threw a few chassis braces in the mix and I had what should be a fairly well set up grip car. The list goes something like this:
ARP extended studs and
Muteki Lugnuts
Buddyclub Racing Spec coilovers
Swift springs 14kg/mm front and 10kg/mm rear
DC2 Integra spindles, trailing arms, calipers.
Hawk HP+ pads, ATE rotors all around.
Skunk2 front upper camber arms
Wicked tuning front lower control arms (spherical bearings)
Wicked tuning rear camber arms (spherical bearings)
Wicked tuning rear toe links (spherical bearings)
PCI rear trailing arm bushings (spherical bearings)
Function7 rear lower control arms (spherical bearings)
ASR rear subframe brace.
Neuspeed rear sway bar.
Civic type R front sway bar.
UR front/rear strut bars, room bar.
Buddy club roll center adjusters.
Now for the most important part of the car, the tires. I am currently running 225/45/15 Hankook Ventus RS-3s up front and 205/50/15 Dunlop Z1 Star Spec tires out back on
15x6.5 +38
Volk Racing 5/4S wheels, I went through two sets of Star Specs in the front, enjoyed them thoroughly but decided to try out the RS-3s and was very impressed with their initial grip.

The interior is very stock save for a bucket seat, steering wheel, shift knob, and quick release (from 9K racing) and works well as a daily.

Anyhow the car ended up looking like this: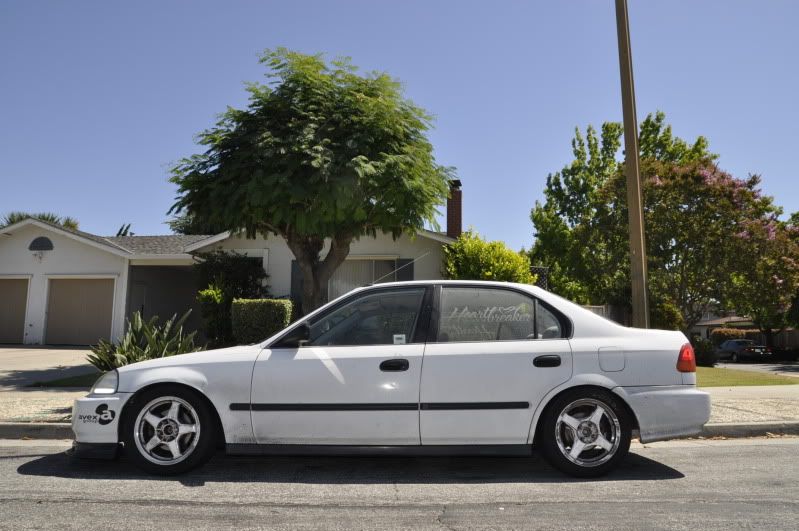 Pretty happy with it for now, I'll update as it progresses.

Current total is $8500 (including car).